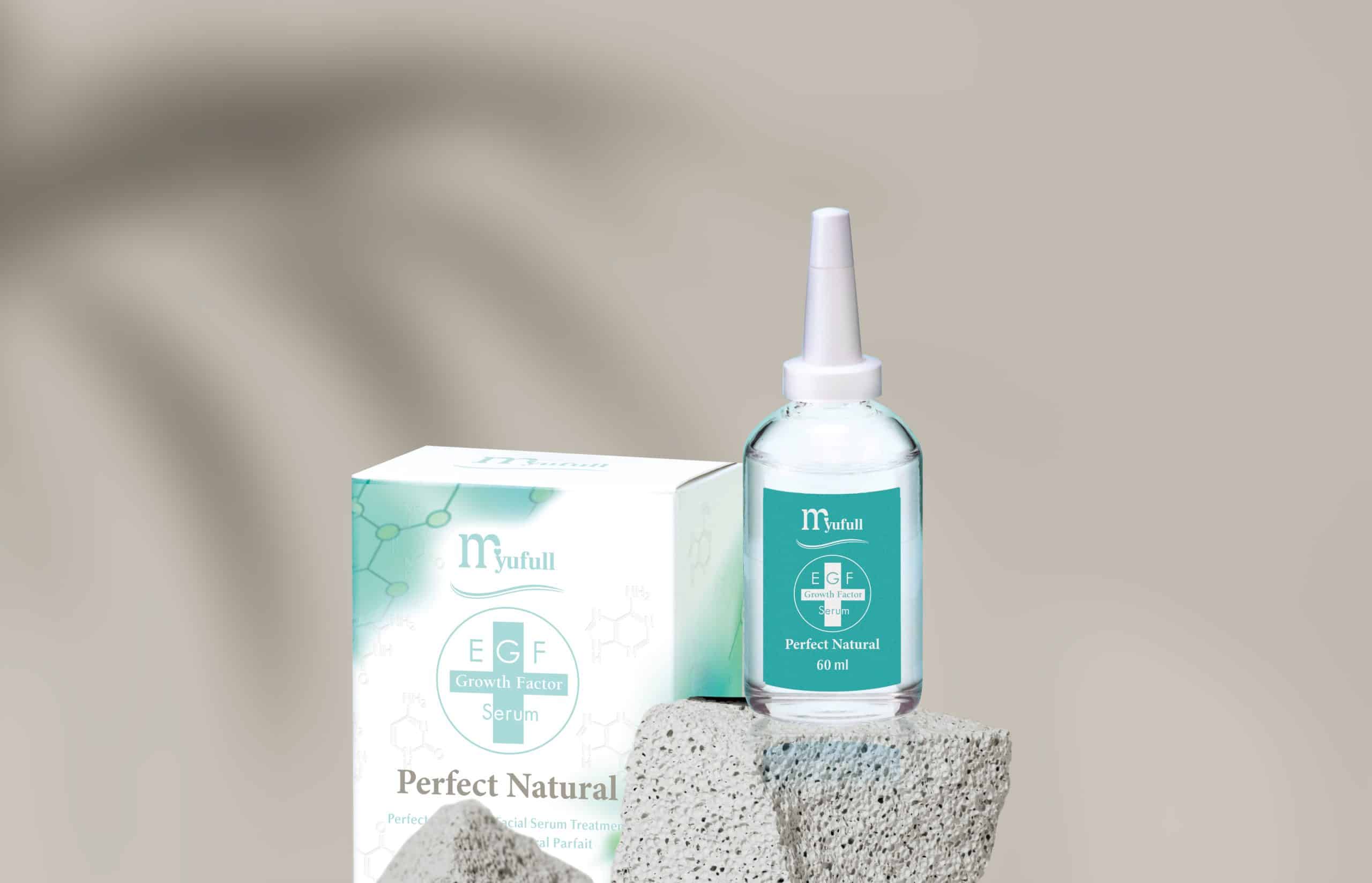 By Tino Calenda, 26th October, 2022
Myufull's skin super-star ingredient in Perfect Natural Serum
The name says it all! Introducing EGF (Epidural Growth Factor) aka rh-Oligopeptide-1, the super-star ingredient in our Myufull Perfect Natural serum.
Epidermal Growth Factor (EGF) occurs naturally in the human body where it acts a signalling molecule (tells cells what to do during the cells growth cycle). EGF is found primarily in blood plasma (the part of blood that doesn't have red blood cells in it), where it acts to increase the rate of healing of epithelial cells (the cells that form the outer tissue layers of organs, other body parts & the outermost layer of the skin called the epidermis). The healing properties of EGF work to renew skin and heal physical & chemical damage. EGF works on the skin by promoting the growth and division of epidermal cells (the outer most cells of the skin).
The laundry list of skin benefits for EGF is long it has been found to reduce the appearance of fine lines & wrinkles, shrink pores, remove scars, prevent dry hair & unusual hair loss by improving blood circulation & nutrient supply to the scalp, treat burns, heal wounds, improve the texture of the skin & reduce the signs of aging. EGF works on the skin by slowing down the thinning of aging skin, increasing the rate of healing in the skin, & increasing the rate of skin renewal (formation of new skin).  
EGF's outstanding benefit is improving the rate of skin-cell turn-over a process that improves the look and feel of skin, and keeps the skin looking youthful.
As we age the rate of skin-cell turnover begins to decrease which leads to dullness, fine lines & acne as dead skin cells collect in the pores blocking the elimination of acne causing bacteria. On average for each decade, after 16 there is an increase in skin-cell turnover time of 15 days! EGF works with the skin as a signalling molecule, which directs skin cells to increase the rate of turn over. EGF is so powerful that only a small amount is needed to produce this effect!  
With so many astounding skin benefits it is no surprise that EGF is fast becoming a go to skin solution, and is featured exclusively in our Myufull Perfect Natural serum where it teams ups with other iconic skin champions like Sodium Hyaluronate; another form of hyaluronic acid, a super-power moisturizer that's all the rage. Grapefruit seed extract (GSE) a powerful antioxidant, naturally rich in ascorbic acid (vitamin C) tocopherols (vitamin E), and a powerful flavonoid (chemicals found in plants) Naringin which protects cells from damage due to free radicals. Finally, soluble collagen, an effective moisturizer which forms a barrier on the epidermis (outermost layer of skin), preventing the loss of water. Myufull Perfect Natural leaves you with a luminous complexion and ageless beauty.  
EMyufull Perfect Natural serum is a stellar addition to your skincare routine that renews skin and maintains a youthful radiance that lasts and lasts.
moisturized, firm and revitalized skin
Buy Myufull Perfect Natural Serum
RESOURCES
Lucia, Lilith Hadie. (2021, June 28). Skin Cycle 101: How To Boost Cell Turnover And Find Your Glow.  https://gotoskincare.com/blogs/the-go-to-guide/how-cell-turnover-works | M.C. Biotech. (2019) Recombinant Human Epidermal Growth Factor (EGF). Erythrulose, FAQ. http://www.mcbiotec.com/?t=view&id=109 |  Nunez, Kirsten (2020, November 6). What Is Sodium Hyaluronate and How Is It Used in Skin Care?. Healthline.  https://www.healthline.com/health/beauty-skin-care/sodium-hyaluronate | Preservative powers of Grapefruit Seed Extract. (2020, March 4). New Directions Aromatics.  https://www.newdirectionsaromatics.com/blog/products/preservative-powers-of-grapefruit-seed-extract.html |  Soluble Collagen. (2022) INCI Decoder.  https://incidecoder.com/ingredients/soluble-collagen | What are flavonoids? Everything you need to know. (2020, July 6). Healthline. https://www.healthline.com/nutrition/best-antioxidant-drinks